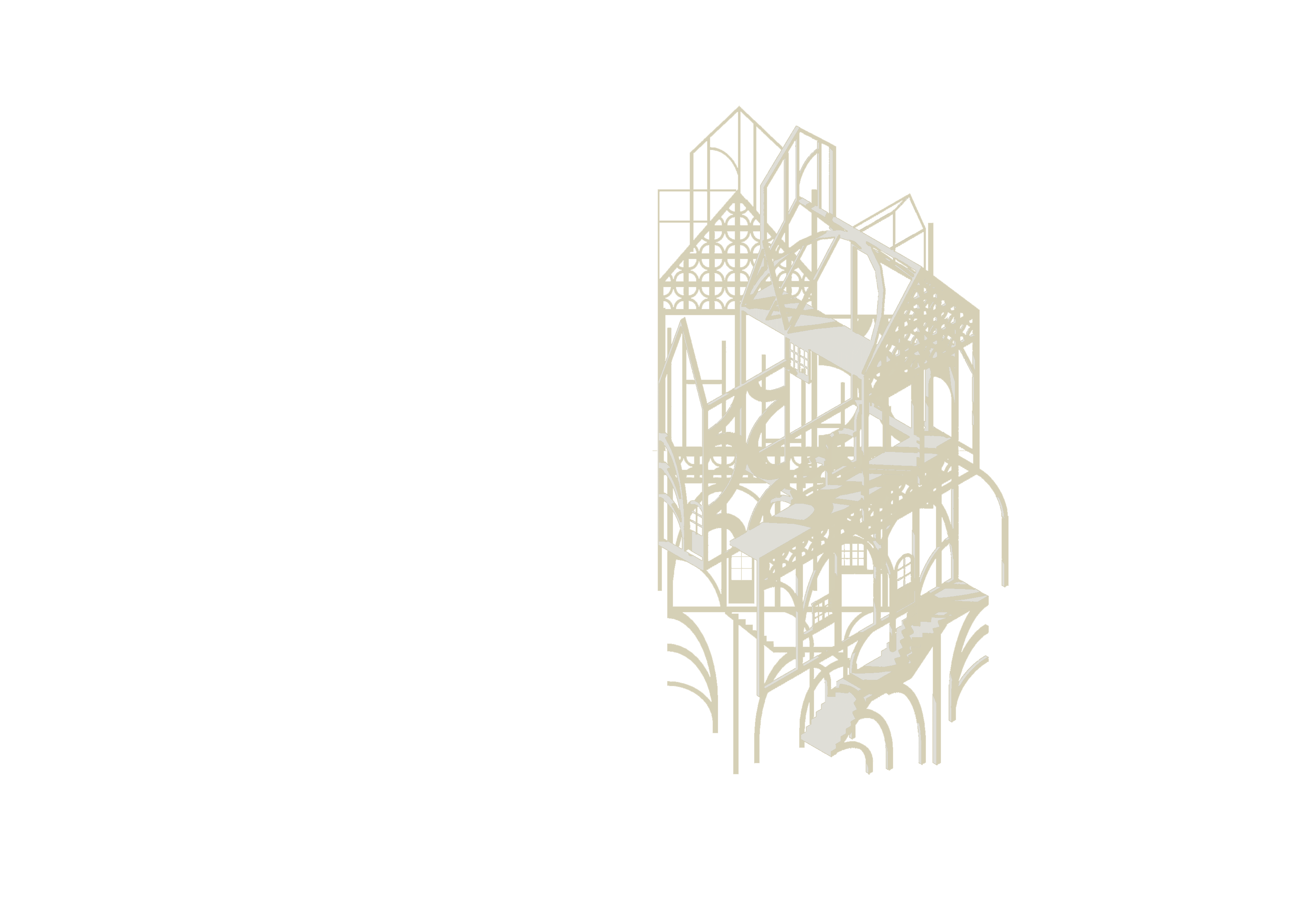 Exhibition Team:
Paniz Alizadeh-Irani
Fawaz Alabbasi
Xioameng Fang
Alexander Haidoulis
Bupesh Hirani
Wiktoria Jarosz
Paulina Lemos
Paolla Melo
Tom Rogan
Hugo Twigger
Joanna Vaughan
Image Credit – Alex Tucker
Welcome to our end of year exhibition and website.
'Adaptations' is an appropriate title for our exhibition this year, it has been another year of adapting to new situations as our students and staff have spent the year working online, face- to- face and adapting to new challenges through the year.
The constant has been the engagement of our students through these changing teaching and learning scenarios and the impressive dedication of all our staff to create the best possible environment for our students to learn.
The work our students have produced continues to exceed expectations, despite challenging situations working from campus and remotely from home they have produced an impressive set of work.
This year as well as our BSc Architecture undergraduate students work we also have the new Masters of Architecture students to present.
There are many things to celebrate this year: our students' achievements, their resilience, their new ideas and innovation and their dedication to their subject and each other. This year our student society RUAS worked very effectively to deliver an online public lecture series and offer students a supportive social network that has been appreciated by many of our students.
An end of academic year is a point to reflect on achievements and a point to look forwards to new changes- I am confident that the staff and student community we have in the School of Architecture can support one another as we look to another year of study and innovation.
To those graduating we congratulate you on your achievements, keep in touch and share your successes with us- we are very proud of you all and we are here for you as your careers develop to share and support your next steps.
Prof. Lorraine Farrelly - Head of School
2021 has been a year of constant re-thinking, of whirling, our delivery and discussion approaches for the blended learning environment, of COBR Zoom's – the tactical Re-Dispersal of Delivery Resources. (RDDR). Of laptops, coffee cups, copiers and keyboards with the oily-lustre of the polyester-anti-viral wipe – dispose with care, remember to breathe. Resiliencies and work-arounds flourished. We air-elbow-bumped and appraised the foot shake. The alternative world became normal, the previously normal gradually distancing to become strange and alternative.
Huge thanks to everyone for working tirelessly, this doesn't mean without getting tired. As we near the end of the year some of us have been luckier than others, our thoughts for everyone and everything lost, respect for everyone and everything found. And there have been finds, who noticed the sensible-social-distancing of our Initial Dots as they Tokyo Drifted the Miro Board, now skirting an exploded axonometric, now ducking into the craters of a densely rendered habitat analysis? Scope here for the, sadly long gone, QuarkXPress Alien.
We started to invite guests from around the world to reviews, why not? It was as easy, or difficult, as joining from Basingstoke. We jumpy-mouse-sketched, agreed, joked, differed, posted camels in the chat, tea-break-ed, mouthed 'your mics off!!', re-joined often. We hope you will enjoy the Beautiful, Smart, Individual and sometimes Quirky work that has flourished this past year on the BSc. Emerging from these experiences, the plans for next year already forming and, with so many meet ups promised 'when/if things get better', it is going to be a busy summer!
Take care.
Associate Prof. Oliver Froome-Lewis - Undergraduate Course Director
This academic year has certainly been a year of ADAPTATIONS to new situations, new ways of working, new challenges – logistical, technical, practical, and personal. It has also been an exciting year, marking another milestone for the School of Architecture at the University of Reading – the start of the new Master of Architecture (MArch) programme. Therefore, for the first time, alongside graduation projects and works undertaken across the BSc Architecture course, our digital end-of-year Show features the work of the first ever cohort of MArch students at UoR.
It has been a year of virtual rooms full of windows, yet without corridors and communal spaces to bump into each other, which in a 'normal world' would allow for serendipitous interactions and social encounters as well as knowledge exchanges. Yet, it has also been a year of discovery, exploring new ways of sharing virtual spaces and navigating them remotely but still together, inviting creative reflections on our school's culture. In fact, in this immaterial, screen-mediated world, our MArch students have built a solid foundation for an exciting future. Despite the lack of physical togetherness, a strong sense of community has emerged, based on mutual support, collaboration, resilience, and a unique ability of our students to imaginatively tackle challenges and uncertainties.
This online exhibition offers a glimpse into our students' fantastic work, reflecting their commitment and passion for architecture, articulating their design agendas in response to the themes that we have collectively examined, including urban regeneration, retrofit and building adaptation, community engagement and empowerment.
It has been a fascinating journey, and I would like to thank our students, colleagues, partner practices, guest lecturers and reviewers, alongside the organisations and communities who have contributed so much to our curriculum this year. You have made this journey not only possible, but immensely enjoyable.
We are looking forward to continuing this journey (hopefully in person) next year!
I hope you enjoy the show and a well-deserved summer!
Associate Prof.Izabela Wieczorek - Masters Course Director